The third day of The Jamzu Daily Double on Touch Arcade started out with some light banter, as the contestants wondered if the positions would be as tricky as Day Two, and also if they'd see a new winner besides haffertee or Khamous!
POSITION ONE Red to move with a five.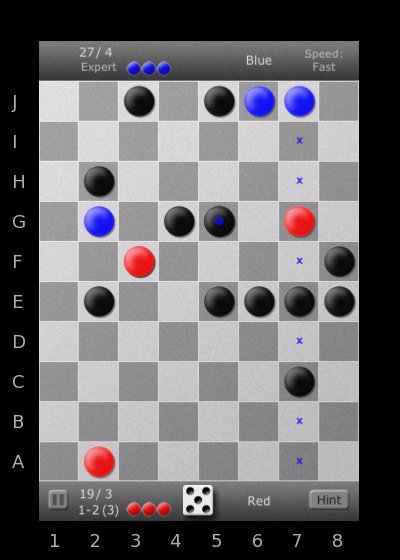 POSITION TWO Red to move with a three.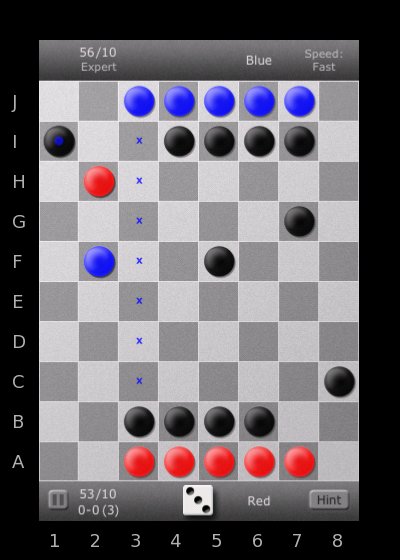 Well, the positions this day may have been a bit clearer, but we did have a repeat winner!
The lightning fast competition saw seang make the first post, finding the tricky rebound in position one instantly and coming extremely close to nailing the second one as well! Only a minute later, haffertee jumped in with both correct moves!
Both moves were seen within the first minute of the competition, just not by the same player. This time Khamous was the first player to see the right move for position two, but he missed the more tricky position one move.
This day was a contest that rewarded very quick thinking under pressure. Several players almost had it right off the bat, but haffertee came through for the win! Congrats, haffertee!
A $15 iTunes Gift Card will be given away to each day's winner! New players can join at any time.

Cheers,
~Doug
—————–
Analysis of Wednesday's best moves:
Posistion One
Best Move: J3-G6
– Unblocks Red in lane 3 for a potential good move off.
– Blocks Blue up more where he is vulnerable in lane 6.
Other Moves:
G7
– No need to do this now when you've got the stronger move in J3-G6
– You'll still likely have a good chance to get the jump on Blue in lane 7 later.
– Kind of a waste of the 5 roll.
Moving H2 or E2 jammers
– Moving E2 definitely too dangerous, letting Blue free too early, or even allowing him to move off immediately with a 6.
– Wait for potential better move for H2, like H2-H6, or even H2-G7 if you get G7 off soon and Blue runner 7 is still in the back rows.

Position Two
Best Move: B3-E2
– Follows the fundamental opening game principle of getting your runner lanes open, while blocking simultaneously if you can.
– Fully opens lane 3 for Red, for maximum possible advance.
– If Blue advances next in lane 3, Red could have a good shot at the jump.
– Stops Blue cold in lane 2, where he is wide open for a good advance or move off.
– Having a Blue runner blocked at F2 makes it more problematic for Blue to get his I5 jammer out of the way.
Other Moves:
H2
– Not necessary now. H2 is in almost no danger of being blocked any time soon. If Blue should try the lone block of F5-I2, not only would he be wasting a good lane opening move, but Red could easily use the I2 jammer right back at Blue.
A7
– Does advance a runner somewhat in the opening game.
– But would be better to use a 4 or 5 to advance in lane 7.
– Does not accomplish nearly as much as B3-E2.
– Does not open any lanes for a following high roll runner advance.