The fifth and final day of The Jamzu Daily Double 2 series on Touch Arcade brought a rare Daily Double where not a single player got even one move correct in the first round. This is the first time that's happened in the JDD competitions!
POSITION ONE Red to move with a three.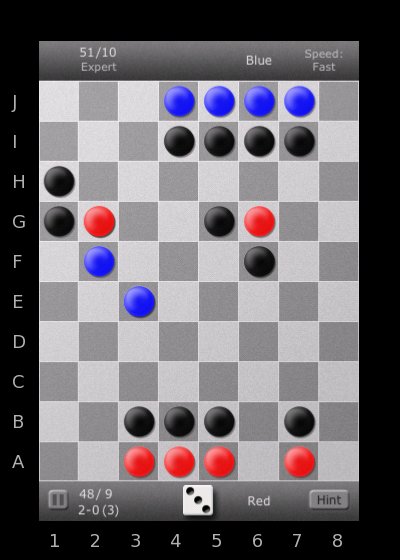 POSITION TWO Red to move with a six.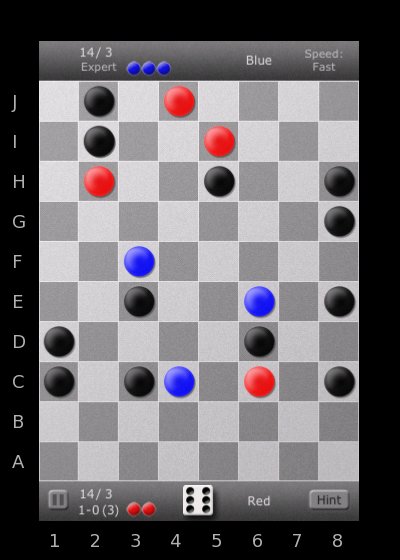 The tricky element with these two positions was the fact they both had moves that were good, and very close, to the best. After sending out PMs that all said the same thing ("none correct"), I wondered if we'd have a contest that would go all the way to the third round. Only a couple of minutes after I gave the GO! for round two, Khamous put that idea instantly to rest, with the correct answers for both positions! Congrats, Khamous on a second win in the JDD 2 series!
With two wins apiece for TheSporkWithin and Khamous, we now had the open round of the Triple Twist coming in just half an hour. Would there be a tie-breaker win between these two players for the final victory of the JDD 2 series? I had no idea what an insanely close battle was about to commence!
A $15 iTunes Gift Card was given away to each day's winner! New players can join at any time.

Cheers,
~Doug
—————–
Analysis of Sunday's best moves:
Position One
Best Move: B3-E2
– Unblocks Red and Blue, blocks Blue (partial block switch)
– Stops Blue from scoring in wide open lane 2.
– Opens lane 3 for Red, while also giving Red a shot at the jump in lane 3 if Blue does not score on his next turn.
– Allows the Red runner in lane 3 a chance to escape before Blue starts trapping him with moves like I4-H3, I5-G3, etc.
– Yes, this move does allow the Blue runner in lane 3 to score. But if you don't block lane 2, you're allowing that runner to score anyways. Allowing Blue off in lane 3 now is fine, as this lane is only going to become a liability for Red if he leaves the runner on A3. Use the roll of 3 to both stop Blue in another lane, open your runner's lane, and prevent longer-term damage where Blue would otherwise try to trap you.
Other Moves:
B5-E6
– Similar to B3-E2, with partial block switch, and opens lane 5 for Red (but not fully!)
– Does not stop a potential attack on A3 by Blue.
B3-E6
– Similar to B3-E2, with partial block switch, and benefit of allowing Red to move his A3 runner before it gets trapped.
– But doesn't have the benefits of stopping Blue in lane 2.
B7-E6
– Unblocks Red and Blue, blocks Blue (partial block switch)
– Opens Red for a long run in lane 7.
– But doesn't have any of the other benefits of B3-E2.
Position Two
Best Move: D6-B6
– Opens Red runner while keeping the block on Blue in the same lane.
– Takes control of lane 6 for Red, preventing any damage from the jammers at C3 or E3.
– By keeping the block on Blue in lane 6, you don't open Blue for his longest possible run in lane 6, which could include a jump!
Other Moves:
D6-B4
– Does block Blue's C4 runner from scoring, and does take control of lane 6 for Red.
– But does allow Blue both a shot at long run, with a score and a jump, in lane 6. This would allow Blue a chance to get way ahead in the race, which right now is very even.