Jamzu 1.3 for the iPhone and iPod touch will be ready in two weeks! The new skins are finished, and just need to finish the graphics redesign and will be ready to go. Very shortly after 1.3 (another week or two) will be 1.31, which will include OpenFeint. Shortly after that will be new Jamzu die-deck variants, move clocks, updated tutorial and help sections, and much more.
Also coming very soon will be Jamzu for the iPad, with all the new skins and OpenFeint as well.
In other news: Jamzu is the final game featured on Vol 80 of the Boardgame Babylon podcast! A very nice review. Check it out!
—————–
Jamzu 1.3 Preview Screenshots: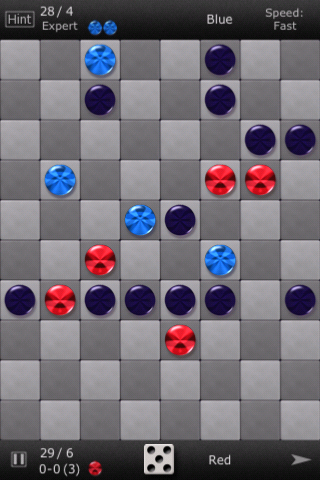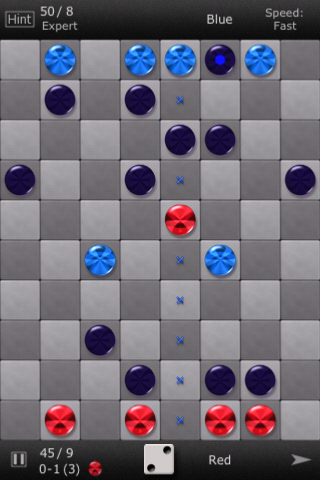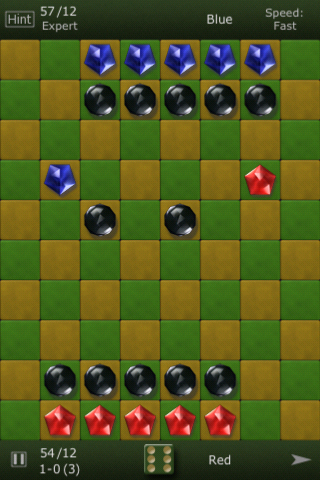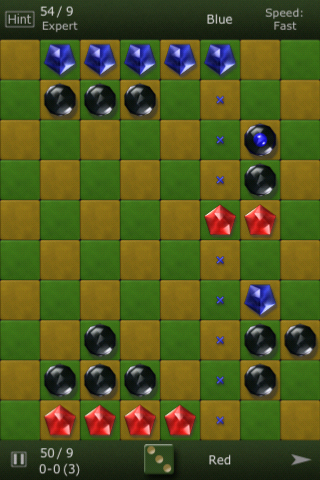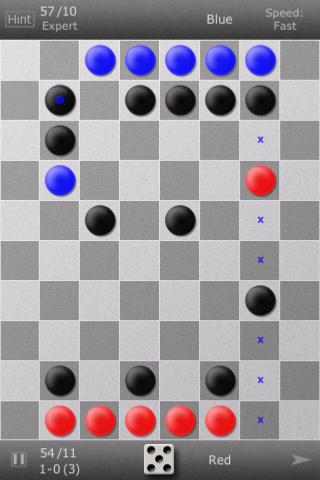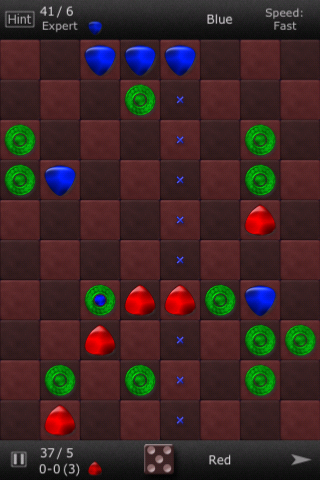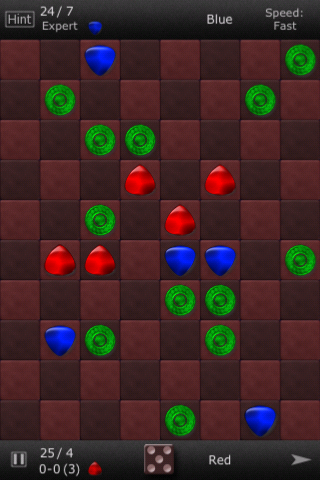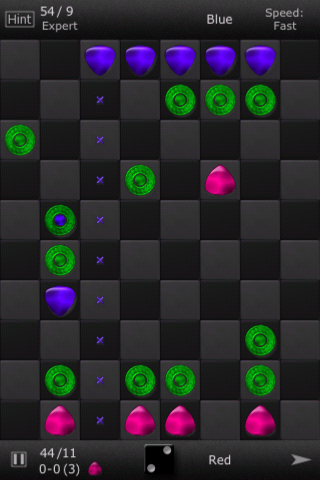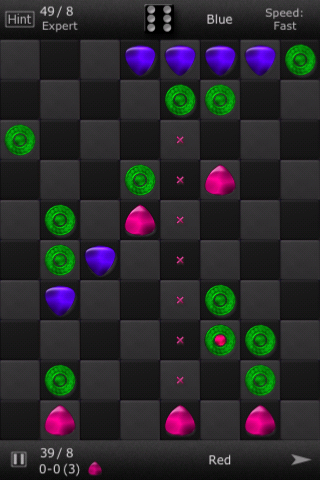 ——————-
A Selection of iTunes Reviews for Jamzu
Highly polished strategy game ★★★★★
"I have several chess and go apps, and they are nice… BUT THIS is so much more because it doesn't try to emulate a board game, it makes use of the platform… the visual cues are top notch, and the game is well thought out."
This is one of the most original games I have played on my ipod! ★★★★★
"This game is like a mix between chess and checkers in every good way you can possibly think of…"
Solid app! ★★★★
"Well, I just got this app today, and I have to say, I am thoroughly pleased… All in all, great app. Jamzu deserves a spot on your iphone"
Unsung Game ★★★★★
"I've never heard of Jamzu before, but this is one heck of a fun little strategy game…"
Fun board game ★★★★★
"Really unique game! Very strategic and fun… I haven't put it down since I got it 2 days ago…"
Great Game! ★★★★★
"We really are having fun with this game. It is used more than all the other games I have downloaded put together!"
——————-
User Comments About Jamzu
"My husband gave me an iPod touch for my birthday, and we promptly found Jamzu, tried the free version and then bought the full version. We are both hooked on this game! Thanks so much!" ~ Becky U.
"I believe it is one of the best "hidden gems" in the Appstore." ~ bweb
——————-
Press Reviews for Jamzu
AppStruck.com ★★★★½
"Strategy-based fun board game that is quick to learn. Great app to play alone or with friends … Many of the options that Jamzu offers ought to be exemplary in all iPhone and iPod Touch board game apps. Unfortunately, this is not always the case, which makes me want to scream from the rooftops, "Bravo Jamzu!" … As with many successfully designed apps, the features are so seamless and logical that it takes a moment to stand back and notice that this is exactly as it ought to be."
Read the full review here:
https://appstruck.com/2009/10/iPhone-App-Review-jamzu/
Livegeek.fr – 14/20
"Les jeux de plateau sont transmis de génération en génération depuis des temps immémoriaux. On compte parmi les plus célèbres les échecs, les dames, le jeu de Go, les petits chevaux et Jamzu. Ah, on me souffle que Jamzu n'est apparu qu'en 1997 de l'imagination de Johanna Pessirilo et Doug Nicola, fondateurs du studio Real Fun Art et qu'il fait aujourd'hui l'objet d'une adaptation iPhone et iPod Touch…"
Read the full review here:
https://www.livegeek.fr/test/132475/Jamzu.html
——————-
Full Feature List:
– Awesome Two Player Wi-Fi and Two Player Same Device modes.
– Four difficulty levels for challenging Single Player fun.
– Helpful Hint makes learning Jamzu a snap.
– Fantastic graphics, animation and sounds.
– Listen to your iPod music while playing Jamzu. Set volume of Jamzu independently.
– Auto save and reload.
– Save up to four games each in Single Player, Two Player Wi-Fi and Two Player Same Device.
– Match play and point settings for Single Player and Two Player Same Device games.
– Set player names independently by game, Single Player or Two Player modes.