The last event of The Jamzu Daily Double 2 series on Touch Arcade was the open round of the Thursday Triple Twist. Several players had entered moves via PM in the first round, but no one had gotten all three positions correct. The Triple Twist turned out to be an epic battle between the two top players from the JDD 2 series,
TheSporkWithin
and
Khamous
. Each had won two contests in the JDD 2.

POSITION ONE
Red to move with a six.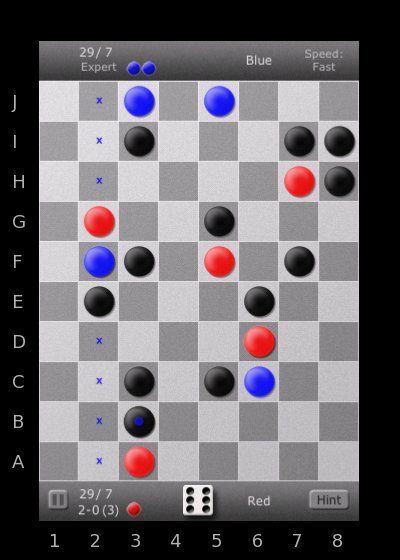 Best Move: E6-A6
- Unblocks Red and blocks Blue. (total block switch)
- Fully opens lane 6 for Red for a maximum long move.
- Stops Blue in lane 6 from scoring.
Other Move:
C3-E5
- Partial block switch.
- Unblocks runner that's furthest behind.
- But doesn't open any lanes for Red.
- Can do this kind of move against Blue in lane 5 later easily.

POSITION TWO
Red to move with a six.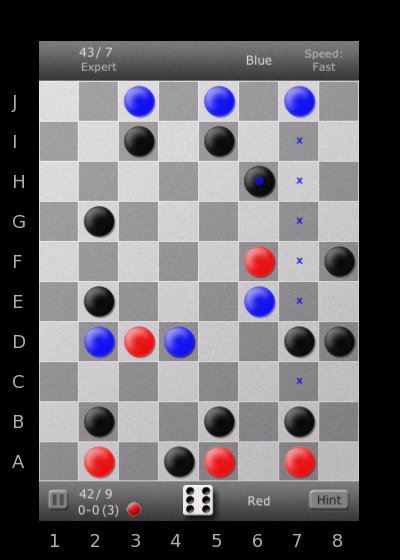 Best Move: G2-C6
- Total block switch.
- Starts unblocking Red's most vulnerable runner.
- Red can continue, in next moves while he controls lane 2, to attack Blue with the E2 and B2 jammers.
- Stops blue from scoring in lane 6.
Other Move:
B5-H5
- Opens Red for a max run in lane 5.
- Blocks Blue in more tightly on the starting position in lane 5.
- But leaves open Blue for a score in lane 6.
- Also does not help Blue's most vulnerable runner at A2, which is quickly becoming trapped. If Blue further attacks Red in lane 2 with the I3 and I5 jammers, Red could be in very serious early trouble here. B5-H5 is a strong move, but G2-C6 is overall better right now.
POSITION THREE
Red to move with a five.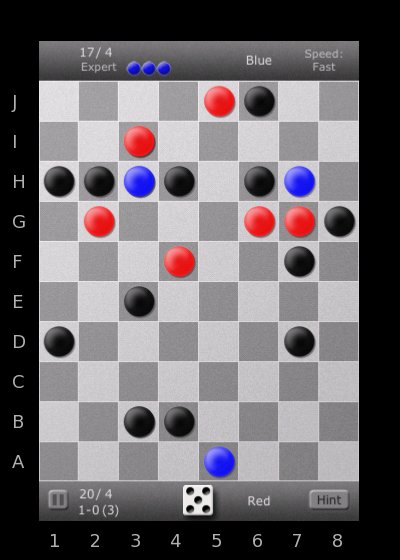 Best Move: H4-C7
- Total block switch.
- Opens Red in lane 4 for the longest possible run and even a score.
- Red's runner in lane 4 is also most vulnerable to a counterattack by Blue from the D7 jammer, so giving him a chance to escape now is best.
- Clears the H4 jammer as far away from Red's runners as possible. Blue can't easily flip the jammer back again to attack Red.
Other Moves:
H4-G3
- Total block switch, also opens lane 4.
- But leaves jammer on G3 in place to harass Red on lanes 2, 4, 6 or 7.
- Makes it harder to clear H2 jammer out of the way in lane 2. Red could use H2 to attack Blue in lanes 3 or 7, but only if G3 is clear.
H4-C3
- Very similar to, and probably equal to H4-C7. Possibly slightly better.
H2-G3
- Total block switch.
- But doesn't open runner in lane 4 for escape and max possible run.
- Jammer on G3 can be used against Red again in lanes 4, 6 or 7.
- Better to do H4-C7 or H4-C3 first, and then this if you have the chance.
H2-C3
- Total block switch.
- Probably even better than H2-G3 in that is gets the jammer further away from harassing Red.
- But doesn't open runner in lane 4 for escape and max possible run.
-----------------
After PM'ing the players with their results from round one, I started the open round. Both players now knew they had the correct answers for positions one and two. The final contest would be over position three, the toughest position of the Triple Twist.
Spork and Khamous both came back lightning fast with identical guesses for their next shots, with Spork's PM coming just seconds ahead of Khamous! But both made the same wrong guess for position three, trying H4-G3.
I PM'd the results again. This time, Khamous came back first with the next shot. He *almost* had the correct move, guessing H4-E7. About 20 seconds later, Spork landed his killer blow, taking the longest possible move with the H4 jammer, and nailing H4-C7!
TheSporkWithin
took First Place in the Triple Twist, in what couldn't have been a closer or more hard fought battle with Khamous. Super congrats, Spork!
Spork won a $25 iTunes Gift Card for his First Place finish.
From all the initial entries in the first round of the Triple Twist, only
Kevd
had actually spotted the correct H4-C7 for position three, along with his other correct guess for position one.
For the Second Place prize, the entries were selected from the remaining players who had submitted at least two out of three moves correct in the first round:
Kevd
,
haffertee
, and
cathy
. Cathy won the drawing, and took the Second Place prize of a $15 iTunes Gift Card. Congrats, cathy!
Cheers,
~Doug